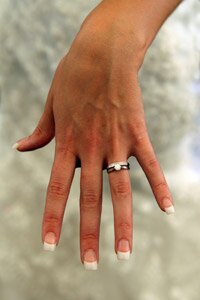 I was really touched by a comment left by Matt on my article why can't I find a husband, giving a link to his blog titled "Best Wife in the World".  To date his new blog consists of just one post but what a post, explaining why he has the best wife in the world.
I have never searched the internet for the term "Best Wife in the World" before and was surprised how many web pages contain this phrase.
I feel sure we all remember Tom Cruise and his antics on the Oprah show, declaring his love. This had such an impact in America that urban dictionaries now include the phrase Jump the Couch.
As a Brit we tend to be more reserved about our personal feelings and squirm at such open declarations of love but Americans seem to have none of our reserve when it comes to declaring their love, faith or opinions.
I would die of embarrassment if my husband started a blog declaring me the best wife in the world … and yet, like any human with an ego, I would secretly be immensely flattered.
If you don't go and read the short blog post I want to share a couple of lines with you.
Matt says "She has endured unbelievable hardship, much caused by me, some caused by "life" in general."
This statement had such an impact on me. Reading between the lines it shows Matt's acceptance that he has not been the best husband in the world and yet his wife has endured and continued to try her best to be a good wife.
Matt also tells us "She is the total package of friend, playmate, confidant and lover to me."
This line in itself should tell us women what is really important to a man in a wife. He does not talk about her weight, her looks or what she wears. A marriage is so much deeper than external appearance and yet some women still believe looks are what it all boils down to.
To be a good wife you need to be devoted, faithful, playful, trusting, energetic, secure, supportive, forgiving and on occasion long suffering.
A tip for MEN … this is not a one way street, we can only continue to be all of these things if you respond in kind and make the effort to play your part in the marriage.
If you read this and think "erm, maybe I haven't been the best wife or husband" then it's rarely too late to change your ways, so take a leaf from Matt's book and start now.
Well done to Matt for recognising his wife's efforts and I hope you will continue to cherish Jean, now you have recognised just how fantastic she is.
Now I don't want to burst your bubble Matt but the Big G (Google) will often highly rank a new blog but over a few weeks it will fall into it's natural place in the search engines … however, if this happens it doesn't mean you don't have the Best Wife in the World!!